Forget pajamas at home. "Third workplaces" make up the fastest growing places to work. The driver? People want to be social.
Despite a back-to-office push, corporate office occupancy lingers at 35% a week. Yet people aren't necessarily holing up in their home offices with the blinds closed and doors shut.
The fastest-growing place to work is social—and includes "third spaces" like coffee shops, hotel lobbies or, increasingly, private clubs.
"People actually want to be in and around communities, not just a space with walls and desks and chairs," says ROOM cofounder Morten Meisner-Jensen. "Just walk past a place that wasn't built to be a workspace but was built to be a social club—and it's packed."
The century-old concept of social clubs is no longer stuffy, with jacket requirements and stacked with members with old money. They're getting a second wind—emerging as hot scenes for Millennials and Gen Zers who pay hefty dues for access to remote work areas, parties, networking and rooftop pools. These clubs are popping up everywhere from Los Angeles and Miami to Salt Lake City. In New York City alone, more than a dozen social clubs have opened since 2020—offering high priced memberships and access to workspaces, restaurants, bars, gyms, wellness spas, pools, nightclubs, plush hotel suites and high-tech board rooms.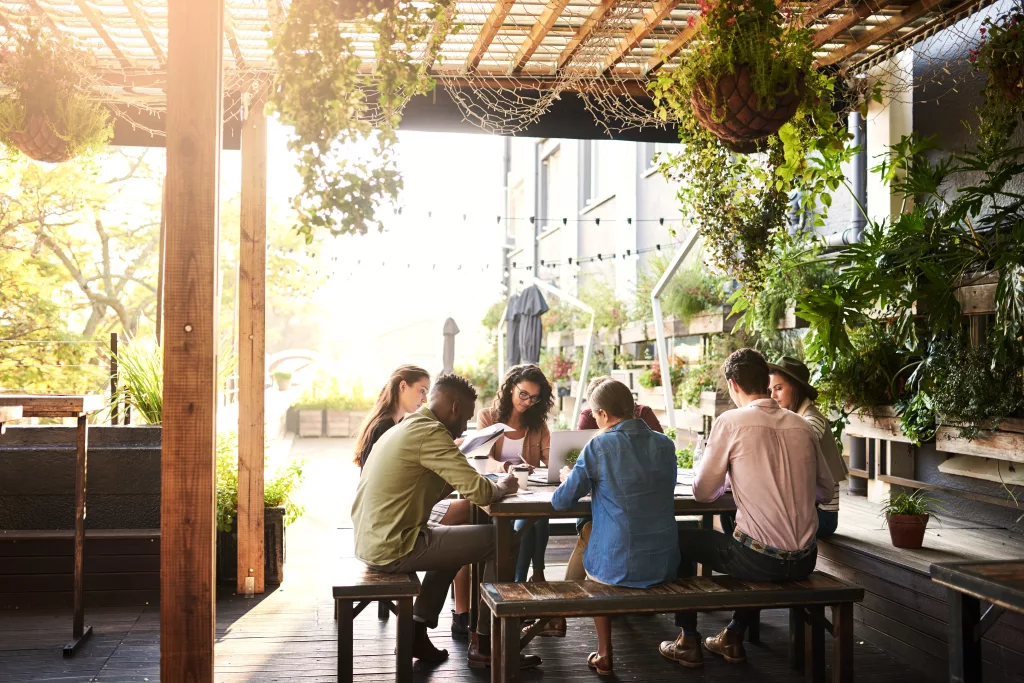 People are also building social circles and finding extra amenities at social workspaces like Haven, a coworking chain tailored to parents who want to avoid a long commute and find onsite quality daycare, estheticians, Pelotons and personal trainers. Nearly two-thirds of tech companies are using coworking spaces to accommodate remote workers, according to the 2023 CBRE Flexible Office Trends Report. Just 16% of people are working exclusively from home, according to recent JLL research.
Smart employers will take a page from what's happening at these third workspaces, says Meisner-Jensen. People want spaces with vibrant energy that is social, builds community and offers moments of privacy and all the extras that make it comfortable and convenient. "Maybe we should stop calling them offices," he says.
Hybrid work has transformed the purpose of the office, and leaders must work to create ideal spaces for socialization, team building and collaboration. They must create an energy with spaces for collaborative work, casual interactions, events, while ensuring spaces for privacy and quiet heads-down work.
The value of the office is in the people, not the place, writes Chris Capossela, Microsoft's chief marketing officer in Harvard Business Review. At least half of employees Microsoft surveyed said their relationships outside their immediate work group have weakened and 40% felt disconnected from their company as a whole. The research also found that 85% of employees would be motivated to go into the office to rebuild team bonds, 84% would go to the office if they could socialize with coworkers. And three-quarters of them said they'd go to the office more frequently if they knew their work friends were there or if they knew direct team members would be there.
Capossela says nobody wants to sit in the office and answer emails or do video calls all day. It's up to leaders to intentionally create space and permission for socialization, he says. And people need to understand that it's not limiting productivity; it's actually helping innovation, retention and psychological safety, he says. Capossela recommends creating new "in-person rituals" such as an extended catered lunch from a hot restaurant or holding quarterly "team weeks" with guest speakers and workshops. People need to bond in new ways, he says. That's especially true when it comes to younger generations. Gen Z and Millennial workers see the office as an opportunity to build relationships with senior leadership and their direct manager, and three-quarters of them are motivated to go to the office to see friends.
Before the pandemic, offices had embraced the ethos of hospitality by adding services, amenities and restaurants designed to make employees feel like they were at a high-end resort instead of a sterile Dilbert-style office.
Today, private social clubs have leaped beyond the mere offerings of a gym and dining area. These clubs, home to creative professionals and foodie aficionados, are the go-to spaces for remote work, a curated experience and much-needed connection following endless Zoom calls and networking conversations relegated to LinkedIn.
The clubs are also finely tuning in to what employees want when it comes to health and wellbeing amenities. One Chicago social club, Bian, has leaned heavily into that desire by offering beauty and spa services, nutrition consultants, fitness classes, and medical concierges. Los Angeles-based Heimat, meanwhile, offers "luxury fitness" with boxing, Pilates, boxing, dance and hot yoga—in addition to offering a rooftop pool and spa services. 
Other clubs are upping their game by curating art exhibits, bringing in celebrity chefs and inventing fragrances that set the tone of the space. The Casa Cipriani in New York boasts black marble bathrooms, black truffle pizza and decor that is a "cross between the Titanic and the Sopranos." 
Do offices need marble bathrooms, boxing classes and fragrances to get people back to the office? Probably not.
But they can take a page from the clubs by making the office feel like a key part of their life, rather than one of many locations to open a laptop, writes Mark Zettl, who leads JLL's National Property Management Practice in America.
Employers can offer wellness services, such as special fitness classes or chair massages. They can create outdoor spaces with greenery and natural light and incorporate more flexible, moveable and comfortable spaces for both social and private work.
One social club, NeueHouse, draws Hollywood creatives by building spaces for community, dining, events and networking. It's a hybrid social club and coworking site that includes a bar and café and work areas with soft, comfortable seating and elevated tables. There is that much-needed space for private conversations and social areas for those serendipitous interactions. NeueHouse currently has three 'Houses' in the US, with locations in New York, Los Angeles and Venice.
"Private clubs create community by tapping into specific shared interests: food, travel and art being just a few jumping off points," writes Zettl. "But in the office, the draw is productive work with individuals who support a similar mission. Private clubs are exclusive; the office is inclusive, a place of engagement and belonging."
Zettl says the workplace must develop new ways to merge the personal and professional without completely blurring them. "Work, wellness, socialization and culture are inherently intertwined and need to be given appropriate space within the workplace if offices are to continue their relevance."