Despite WeWork's potential bankruptcy, demand for coworking facilities grows. Spaces are eclectic, social and in your backyard.
WeWork's warning to investors about the potential for bankruptcy does not spell the end of the work-from-anywhere revolution.
The company's uncertainty has prompted some to question the future of coworking. Yet the rest of the coworking industry is alive and kicking. The need for flexibility and flex office space is only increasing. In the second quarter, the number of coworking spaces grew 10%, and these spaces are now popping up in areas closer to home versus major cities, offering more space for the work-from-anywhere era.
Next year looks even brighter. More than a third of tech companies plan to double their use of flex space in 2024, according to the 2023 CBRE Flexible Office Trends Report. Among those companies surveyed by CBRE, as many as 94% of tech companies have already used flexible office space in their portfolio and 74% use flexible office suites with shared amenities. The bulk of these companies—70% —are using coworking spaces to accommodate remote workers and 28% are mitigating the uncertainty of back-to-office.
"It's a very, very interesting dynamic to see WeWork in so much trouble despite the sector doing so well," says Amina Moreau, CEO & Cofounder of Radious, a new coworking startup that matches people with workspaces in residential areas in Portland and Milwaukee.
While WeWork became saddled with long-term leases in city centers, other coworking companies like Radious are doing things differently. Radious, which works like Airbnb, allowing people to rent their residential spaces for group meetings and private workspaces, has no lease obligations. Industrious, which has 160 locations, inked partnership agreements with landlords that allow the company to grow sustainably and with less liability.
Large companies, including JP Morgan, Instacart, and Compass, are now tapping Industrious to provide more flexible work options for their employees, many of whom prefer shorter commutes and a hybrid work schedule. The company's revenue has tripled since 2019, and it's tallying 35% and 40% growth a year. "We're seeing record demand," says Liz Simon, Industrious' chief operating officer.
IWG Group, which has coworking brands in 3,400 locations, has seen a similar uptick. It saw record revenues during the first part of the year. Companies are looking for new ways of working, IWG's CEO Mark Dixon said in the company's latest analyst presentation.
"For workers, it takes away the drudgery, the cost, the stress and lost time of commuting," Dixon wrote. "And for businesses, it eradicates the tyranny and expense of the long-term, city-center lease while improving employee engagement and productivity."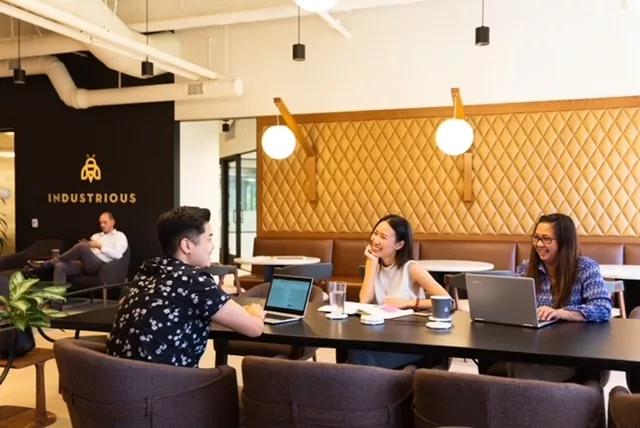 In the past, coworking attracted mostly entrepreneurs who needed flexible leases and the veneer of authenticity of an office to potential clients. But today, a growing number of users are "displaced corporate workers" who want an escape from home with social connections. Some of these co-working spaces offer social activities like Bingo nights, happy hours, snacks and coffee bars.
At the office, people may be linked by a department, project or a boss at the office. At coworking spaces, people can "self select" their social circle in a coworking space, whether it's people who are dog lovers or who enjoy hobbies like bowling. Industrious' coworking location in Prospect Heights, Brooklyn, for instance, draws young parents and people bond over that shared similarity. Sometimes, creativity is stimulated by other workers buzzing around them, much like an anonymous coffee shop environment.
"They could have worked from home," Travis Howell, who has studied co-working facilities as assistant professor of Management and Entrepreneurship at Arizona State University, told the New York Times. "But the reason they were self-collecting into the co-working spaces is because of the people."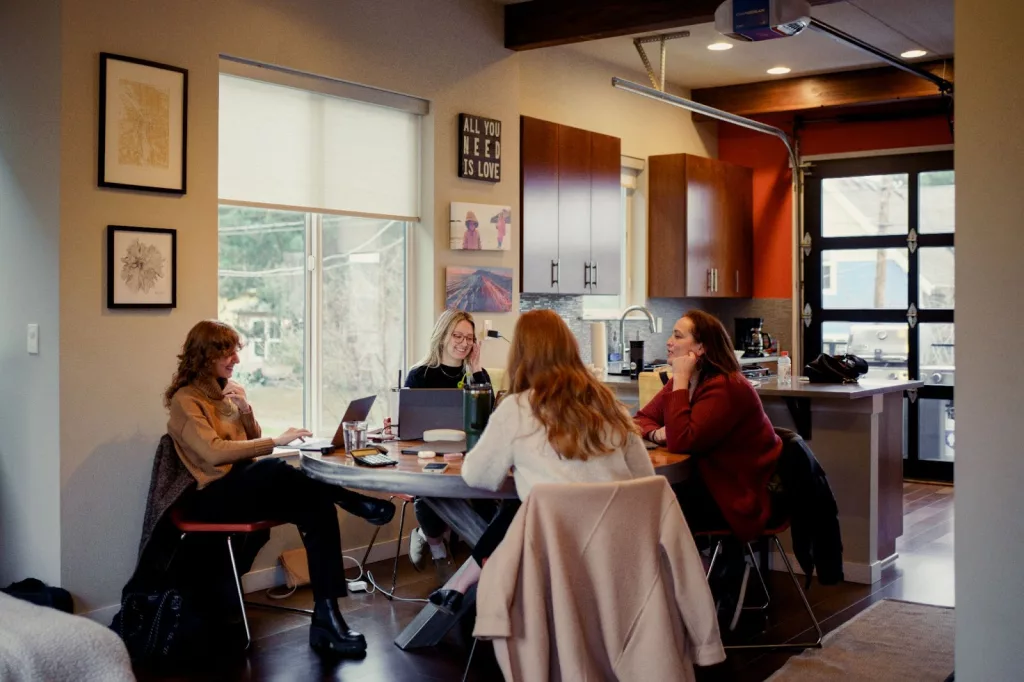 Coworking is getting a lot closer to home too.
After the pandemic, people left city centers in droves, and IWG estimates that close to half a million U.S. city-dwellers will leave urban areas for the suburbs, smaller cities and rural regions—most of them in search of larger homes and a better work-life balance. They don't necessarily want to commute back to the city to go to the office.
"The biggest trend we see, especially in a post-pandemic world, is that people want to work within 15 minutes of where they live," says Industrious' Simon. The company has prioritized expanding in mixed-used neighborhoods, rather than traditional office markets.
Similarly, IWG plans to open new offices this year in suburbs like Edmond, Okla., Canton, Ohio, Warrendale, Penn., and Sherbrooke, North Dakota. And Radious, which acts as an Airbnb for coworking space, is going a step further: offering more rentals and meeting spaces inside people's homes rather than traditional offices. "You might be able to walk three doors down to your neighbor's guest house-turned-office and get some separation and maybe see a colleague," says Moreau.
That means the scope of what defines a workspace is expanding. Think: yurts, Airstream-turned-offices and historic homes with private offices. LiquidSpace, for instance, even rents out space in a candy factory in Denver, a bank in Montreal and the former trading floor of the Minneapolis Grain Exchange. "Coworking spaces are coming in all flavors," Prithwiraj Choudhury, associate professor at Harvard Business School, recently told CNN.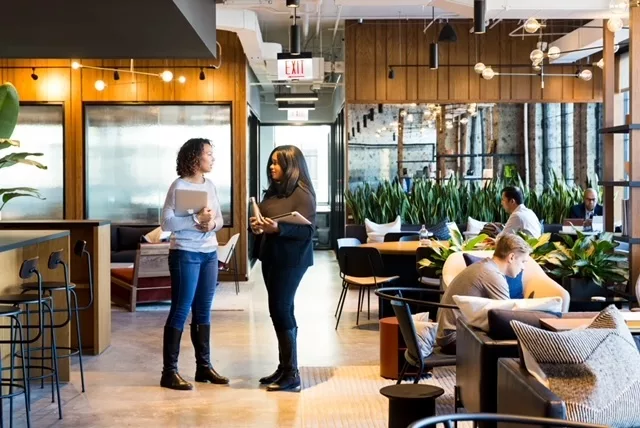 Some industry watchers suggest that going forward, we use the term 'community workspace' to better capture how coworking facilities are used and their benefits. One day in the future, will everyone use them? Will they redefine how we work? Will we eventually organize our lives around our neighborhoods instead of where the corporate office might be?
Coworking is far from dead. Work is no longer a choice between going to the office or working at the kitchen table. It's about being able to work from literally anywhere and everywhere, and what that looks like continues to evolve.