Spending on office space is on the rise as employers rethink the workplace. Here's how to put a lid on overspending.
Companies are redesigning their office space to draw employees out of their homes and back to the workplace. Yet remodels have a way of getting out of control when it comes to spending.
"Whether it's personal or even within the commercial sense, the first thing people say is 'Oh, I went over budget, or over schedule,'" says Nicolas McNamara, director of project management at commercial real estate firm CBRE.
Hybrid work has prompted companies to shrink their overall real estate footprint while spending more on office design, says McNamara. In 2019, a company might have had 1 million square feet of office space, but now they've collapsed that to 600,000 to 700,000 square feet, he says. But they're spending more on office construction. Office spending jumped 5.7 percent in the last three months of the year, putting it near the top of business expenses, according to corporate card and expense firm Ramp.
The higher spending costs are driven by price escalation and supply chain backlogs—and offices are being designed for the new way we work. "The office is becoming more of a destination, and more money is being spent on attracting people back into the office," says McNamara.
In 2019, when employees came to the office four or five days a week, an office had a lot of open seating and bench seating and maybe 20% to 30% of a floor plan included offices or enclosed conferencing spaces, says McNamara. Now, employers are adopting new models and designing spaces around collaboration and flexibility, creating spaces to build culture, drive collaboration, offer socialization or boost mentorship, training, onboarding and team building activities.
But creating an office space that stands the test of time is tricky because work is constantly changing.
"Everyone is trying to position themselves to look into the crystal ball and the future," says Laura Vierling, Managing Director and Principal of IA Interior Architects' Washington D.C. studio. "We're always talking to clients about designing for flexibility and adaptability."
But costs can easily get out of hand. Here are 6 ways to save money while creating inviting and purposeful space to bring people back to the office.
1. Repurpose what's already there.
McNamara recommends that cost-conscious companies would be wise to keep existing ceilings, acoustical pilings, flooring or partitioning. It's also a good idea to stick with the existing floor layout if possible, says Artem Kropovinsky, an interior designer and founder of Arsight, an interior design studio in New York. The best option, Kropovinsky says, would be to make an open space with functional areas that are interchangeable. "When we add more functional areas, it implies a lot of renovation work and leads to a lot of construction," he says.
Consider repurposing your existing materials in creative ways, whether it's turning old doors into tables, refurbishing workstations or office chairs, reupholstering worn out furniture or adding a fresh coat of paint to walls and cabinets. Kropovinsky has helped clients remove the doors of kitchen cabinets that look outdated to create stylish open shelving. "It's a very functional solution," he says, "and it's cost effective because it can be used in place of expensive built-in storage units."
2. Hire an expert
While it might seem like an expensive decision, hiring an architect or designer can actually help you optimize your space for your company's needs and budget. Designers may cost anywhere from $75 to $250 an hour, but they can also help you prioritize where you want to spend your money and offer "good, better, best" options for your remodel. They can also offer ideas on what similar companies are doing with their offices to attract employees. That person will also likely understand local code and egress rules, manage safety and engineering of the space and even offer sources for discounted materials.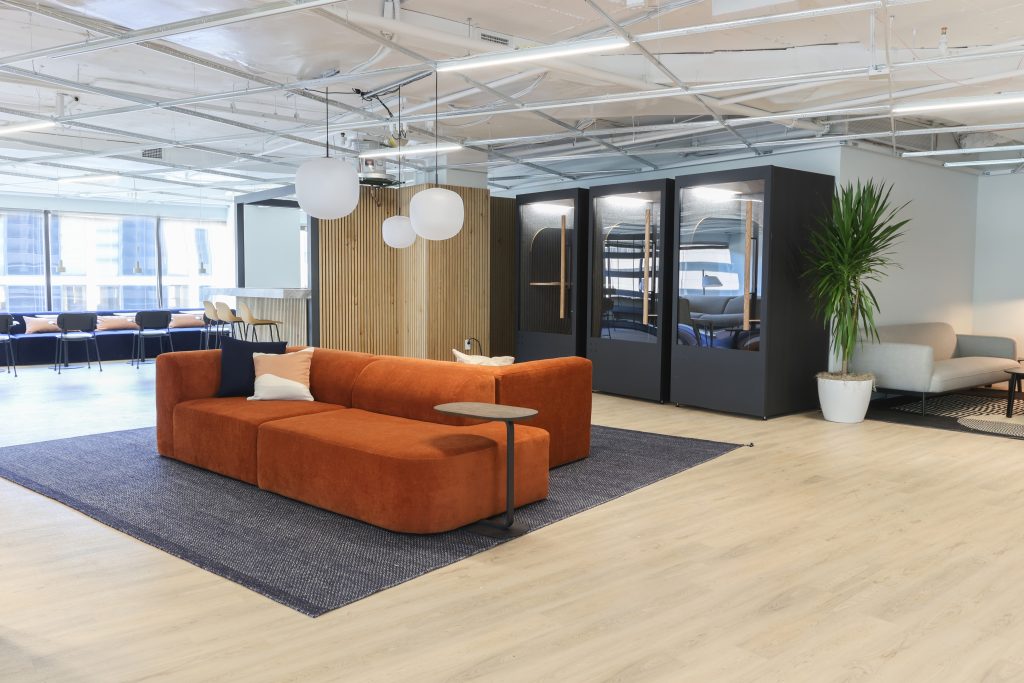 3. Use modular rooms instead of drywall
Adding modular rooms or prefabricated partitions can be a huge way to save money—and time. And it's increasingly popular: the global modular construction market size is expected to reach $162.40 billion by 2030, as more businesses opt for faster, less expensive ways to build offices with less waste and more flexibility, according to Grand View Research.
Traditional construction of an office room might cost anywhere from $10,000 to $40,000, depending on the size of the room, and that lengthy project involves building permits, a team of contractors, disruption and unnecessary construction waste. Once it's built, it's not easy to change.
ROOM's modular meeting rooms, focus rooms and phone booths are equipped with soundproof walls, desks, ventilation, connectivity and electrical outlets, and they can be installed in a matter of hours. They can easily be moved and rearranged when your workplace needs change—and if your company moves to a new office, you can bring them with you. They are also far more sustainable: ROOM's products, for instance, have been shown to help a company reduce its carbon footprint by as much as 33% .
4. Find used or rented materials
Buying new can be overrated. Online marketplaces and outlet stores often have sales on fixtures and furniture that can help cut costs. For discounts on commercial furniture, Vierling suggests furniture dealers that specialize in refurbished or second hand commercial furniture. Even inexpensive materials, such as laminate or engineered flooring or colored paint can be used to achieve a stylish look. "Many tenants leave perfectly good furniture behind when they move to a new office and there are furniture dealers who will decommission and refurbish or clean up the furniture for resale," she says.
Another option to save is to rent furniture. You can furnish your office for low upfront costs and scale up and down as needed. It may be a good option for one to two years, but for longer leases, it may make financial sense to buy furniture and write off the amortization on corporate taxes.
5. Embrace simplicity—with personality
Kropovinsky recommends sticking with a minimalist design if you're on a budget. It allows for a simple but yet functional office space that will reduce the need for expensive decor. Companies can also find ways to weave their personality, story, culture, values, customers and history throughout an office space using inexpensive custom graphics, like full wall murals and graphic films that can be placed on glass, says Vierling.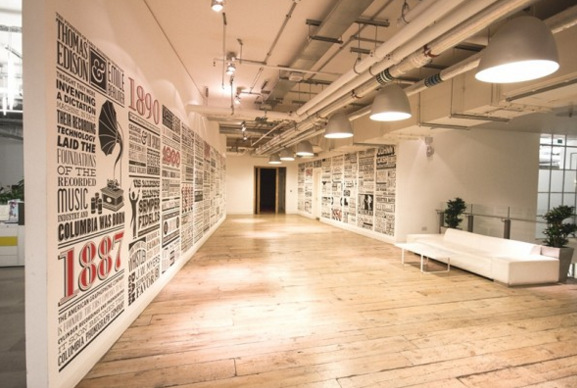 Small, inexpensive changes can also do wonders to revamp a space. It could involve adding a few plants or a moss wall, which requires no maintenance, or finding ways to bring in natural light and colors that minimize stress and inspire work. (Studies show green nurtures creativity.) Another way to change things up on a budget is to switch to LED lighting or adding some interesting accent lighting. "Lighting can transform the look for a space, and it can involve just changing fixtures to something new or relocating existing fixtures to change the feeling of a space," Vierling says.
6. Take the pressure off
Don't feel a need to do everything at once. Dividing any office remodel into phases not only helps manage costs, but it allows you to change and pivot along the way, says Kropovinsky. That is increasingly important because how we work continues to shift over time.
Fortunately, upgrading the workplace for tomorrow's employees doesn't necessarily need to bleed your company dry. It can be attractive, inviting, flexible—and inexpensive.